Movies & Shows - Show Biz clinic originally published at Movies & Shows - Show Biz clinic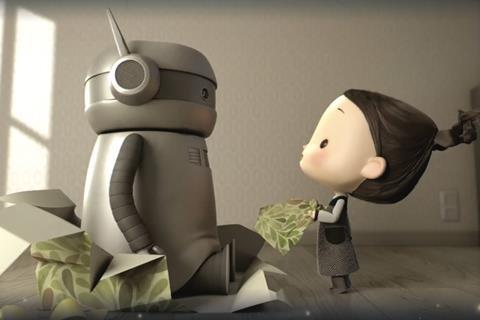 Canada's Sphere Films International has boarded sales on the feature animation Space Cadet from DJ, music producer and visual artist Kid Koala and will launch talks with EFM buyers in Berlin next month.
Production is scheduled to commence this year with an expected completion date in late 2024. Sphere Films will release in Canada.
Space Cadetis a dialogue-free fable about a young woman and her robot guardian. It explores grief, loss, and love across generations. Koala is directing from his 2011 graphic novel of the same name, which Mylene Chollet has adapted for the screen.
Ginette Petit serves as producer and described the project as "a humanist and luminous ode created by an exceptional Canadian artist". Michel Pradier and Nathalie Bissonnette serve as executive producers.
Kid Koala aka Eric San has performed, produced and composed music for such films as Edgar Wright's Baby Driver, Baz Luhrmann's The Great Gatsby and Rian Johnson's Looper, as well several animated shorts for National Film Board of Canada, Cartoon Network and Sesame Street.
"We are beyond excited and are privileged to work with the dynamic and multi-talented Eric San and thrilled to bring this endearing story and electrifying project to the world", said Sphere Films International senior vice-presidents Anick Poirier and Lorne Price. "Eric's talent knows no bounds and his evolution to directing a feature animation film is an obvious one."
San added: "I am elated to be working with such a wonderful team to bring Space Cadet to the screen. The story is told through the eyes of guardian, child, technology, and humankind, past, present, and future. It touches on themes such as connectivity and the inherent power of everyone to evolve. Space Cadet is on ode to love and life… a tomorrow-days lullaby about finding your place in the universe."
Sphere Films International will also be selling Jub Clerc's Berlin Generation KPlus selection Sweet As, which screened at TIFF. The executives will launch sales on the French-language drama A Respectable Woman (Une Femme Respectable) from Bernard Emond, as well as Francis Leclerc's The Dishwasher (Le Plongeur) based on the book of the same name.
The Match Factory unveils seven-title Berlinale slate including Christian Petzold's 'Afire' (exclusive)
Movies & Shows - Show Biz clinic originally published at Movies & Shows - Show Biz clinic