Movies & Shows - Show Biz clinic originally published at Movies & Shows - Show Biz clinic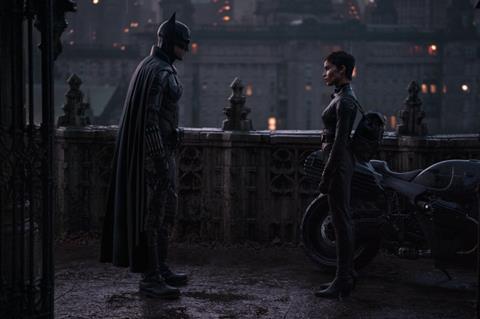 DC Studios has unveiled the first 10 films and TV shows in its Chapter 1 phase focused on gods and monsters which will bring new stories for Supergirl and Swamp Thing, as well as TV prequels for Wonder Woman and a Batman and Robin story. 

James Gunn and Peter Safran, who were announced as DC Studios co-heads late last year, said five films and five series for HBO Max are currently in development and the plan was to release two films and two series from the unified DC Universe per year.
The co-heads also announced that while not part of Chapter 1, The Batman – Part II is scheduled to open on October 3, 2025 under the DC Elseworlds stable for projects set outside the DC Universe. The 2021 original was a big hit for the studio, grossing $369.3m in North America and $770.9m worldwide.
The upcoming Chapter 1 film projects appear below. All synopses are based on those provided by DC Studios:
Superman: Legacy written by Gunn and focused on Superman balancing his Kryptonian heritage with his human upbringing. As previously reported Henry Cavill has left the series and the studio is scouting for a new lead. Scheduled to open on July 11, 2025;
The Authority – WildStorm characters will join the DCU as members of The Authority take matters into their own hands to do what they believe is right;
The Brave And The Bold – the DCU will introduce its Batman and Robin in this father-son story inspired by Grant Morrison's comic series;
Supergirl: Woman Of Tomorrow  – sci-fi adventure based on Tom King's recent comics stories presents a Supergirl viewers are not used to seeing; and
Swamp Thing – the film will investigate the dark origins of Swamp Thing.
The upcoming TV projects are:
Creature Commandos – a seven-episode animated show in which Amanda Waller creates a black ops team out of monstrous prisoners. Gunn has written all episodes in the first season;
Waller – starring Viola Davis, this series features Team Peacemaker and will be written by Christal Henry (Watchmen) and Jeremy Carver (Supernatural);
Booster Gold – Booster Gold uses basic technology from the future to pretend to be a superhero in present day;
Lanterns – "enormous" TV event series follows intergalactic cops John Stewart and Hal Jordan as they uncover a dark mystery; and
Paradise Lost ­– set in Themyscira, home of the Amazons and birthplace of Wonder Woman, this drama focuses on the genesis and political intrigue of an island of all women.
"Chapter 1 tells cohesive stories that highlight love, compassion, and the innate goodness of the human spirit, all designed to minimise audience confusion and maximise audience engagement across platforms," said Safran.
Gunn added: "Superman: Legacy is the true foundation of our creative vision for the DC Universe. Not only is Superman an iconic part of DC lore, he is also a favorite character for comic book readers, viewers of earlier movies, and fans around the world. I can't wait to introduce our version of Superman who audiences will be able to follow and get to know across films, movies, animation and gaming."
Besides The Batman Part II, DC Elsewhere projects include Todd Phillips' Joker: Folie à Deux with Joaquin Phoenix and Lady Gaga scheduled for October 4 2024, a stand-alone Superman film from a screenplay by noted author Ta-Nehisi Coates and produced by JJ Abrams, and animated children's series Teen Titans Go!.
David Zaslav, CEO of SC Studios parent company Warner Bros Discovery, axed Batgirl and TV titles last year as he looks to make billions in cost-savings in light of the merger between Discovery and WarnerMedia. However he has said repeatedly that he believes in the value of theatrical releases for the right films.
Italy-France western 'Heads Or Tails?', Ukraine's 'Consider Vera' big Rotterdam industry winners
Originally published at https://www.screendaily.com/news/dc-studios-unveils-first-phase-superman-and-the-batman-sequels/5178677.article
Movies & Shows - Show Biz clinic originally published at Movies & Shows - Show Biz clinic