Movies & Shows - Show Biz clinic originally published at Movies & Shows - Show Biz clinic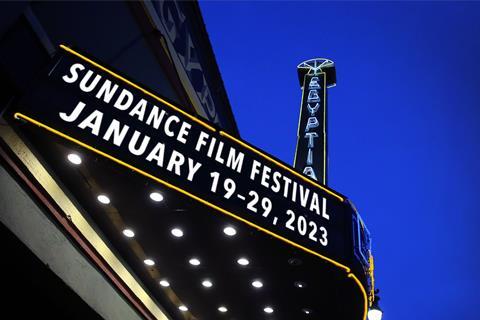 UPDATED: Apple and Amazon are understood to be chasing John Carney's Flora And Son which sources expected to close overnight, while bidding on Fairyland has reportedly reached high seven figures as buyers have responded robustly to Sundance titles over opening weekend.
Flora And Son premiered at The Ray Theatre on Sunday afternoon and centres on a single mother who gets her ne'er-do-well son a guitar with unexpected results.
Theatrical buyers are also understood to be pursuing the title. WME Independent, Fifth Season and FilmNation handle sales on the latest musical drama from Carney (Sing Street, Sundance 2016; Once, Sundance 2007). Bono's daughter Eve Hewson stars in the Premieres entry alongside Joseph Gordon-Levitt, Oren Kinlan and Jack Reynor.
Andrew Durham's father-daughter drama Fairyland with Emilia Jones and Scoot McNairy has been a relatively slow burner since its premiere on Friday. Buyers liked it immediately and negotiations have stepped up for US and international rights, Screen understands. UTA Independent Film Group and Arclight Films handle the Premieres selection.
The Sundance deal flow tends to trickle in after opening weekend and there have already been encouraging signs of engagement.
At time of writing offers were on the table for the Philippou brothers' Australian Midnight selection Talk To Me, which Bankside is selling, while bidding is understood to be into eight figures for Chloe Domont's breakout US Dramatic Competition entry Fair Play.
WME Independent is fielding interest across the board on the mockumentary Theater Camp from Molly Gordon and Nick Liberman. The crowd-pleaser received a thunderous response at Eccles Theatre on Saturday. A second ovation was received when a group young actors performed a medley from the film after the credits. Erik Feig is among the producers on the US Dramatic Competition selection and was behind last year's hit Cha Cha Real Smooth.
Offers are expected soon if they have not already materialised on The Eternal Memory, Maite Alberdi's The Mole Agent follow-up which premiered in World Cinema Documentary Competition on Saturday. Submarine and UTA Independent Film Group jointly represent the documentary chronicling the love story between a retired Chilean cultural commentator and his wife as he succumbs to Alzheimer's disease.
Eileen, William Oldroyd's Lady Macbeth follow-up and Premieres entry starring Anne Hathaway and Thomasin McKenzie, is also garnering interest. WME Independent represents sales.
Earlier on Sunday Magnolia Pictures acquired worldwide rights to D. Smith's NEXT entry and Black trans sex worker documentary Kokomo City.
Sundance 2023: the deals so far
Movies & Shows - Show Biz clinic originally published at Movies & Shows - Show Biz clinic